https://www.theguardian.com/busines...usiness-owners-struggling-to-pay-energy-bills
Thousands of small businesses across the country are
facing the possibility of closure
, as energy bills have risen to levels that many owners are finding difficult to pay.
Unlike for residential homes, company energy tariffs are not capped, leaving some business owners facing an increase in bills of more than 350%.
Weeping Cross Fish Bar, Stafford
"I just don't know how I can stay in business," says John Evans of the Weeping Cross Fish Bar in Stafford.
"We are a small 5m by 10m takeaway-only premises. The renewal on our gas has just come through. It has gone from £9,000 to £32,000 a year. I can't sleep at night."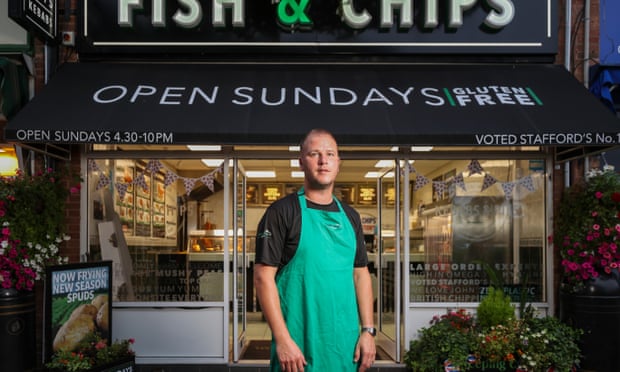 John Evans. Photograph: Fabio de Paola/The Guardian
Before the rise in gas bills, chip shops had already been hit by Russia's invasion of Ukraine, which has caused a doubling in the price of some fish and cooking oil. Meanwhile the UK's drought has pushed up prices of potatoes by 25%.
To add to Evans's scaling costs, a 35% tariff has been imposed on Russian cod landed in the UK – and Scandinavian suppliers have hiked their prices, too.
Evans's shop is one of 10,500 across Britain employing about 100,000 people and serving 182m fish and chip portions per annum. He says his customers simply won't be able to afford the huge price rises needed if they want to stay in business.
"I'd have to charge £12.95 for a fillet of haddock just to break even," says Evans.
The industry is demanding help from the government, such as a cut in the VAT rate, which was reduced to 5% during the Covid lockdown but has since returned to 20%.
Andrew Crook, president of the National Federation of Fish Friers, says: "The current VAT system is nearly 50 years old and is outdated … We don't want handouts, and a temporary reduction just prolongs the life of a system that is not fit for purpose.
"My members feel abandoned by the government. If we lose independent fish and chip shops and other hospitality businesses it will be a major loss to the social fabric of the country."
In the absence of government support, Evans shares the pessimism about the future of his trade. "We are a standalone community shop, in business for 23 years with a great footfall, but this may finish us," he says. "There is going to be a mass exodus from the business over the next six months."
​